A VETERAN HELPING VETERANS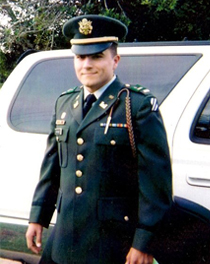 Bottom Line Up Front: Receiving service connection benefits through the Department of Veterans' Affairs (VA) can be a very lengthy and often frustrating process.
The VA claims process is riddled with mountains of red tape and a slow and inefficient process. One single mistake or omission, be it on your part or on part of the VA, can cost you several years of processing time.
It should be a simple, straight-forward process. You served your country. You were injured. And now you are seeking benefits that were created to help you in gratitude for your service.  However, most veteran claims are denied or only approved for very minimal benefits.
To make matters worse, the process will likely take years to complete.
This is why you need an attorney. Especially an attorney that understands what it means to serve!
I have served on both active duty and reserves/national guard. I understand the process and what it takes to receive the benefits that you are entitled. I know firsthand the difficulties of transitioning to the civilian sector while also trying to navigate through the VA as well as dealing with your medical impairments.
WHO DO WE REPRESENT
Veterans from every branch of the military: Army, Navy, Air Force, Marine Corps, and Coast Guard that has received an honorable discharge.
Whether you served years ago or just recently separated from the military.
If you are currently receiving benefits and are seeking an increase in your compensation rating
If you were injured in combat, non-combat duties, or even "off-duty" while you were in service.
FEES
You are not responsible for any fees unless your claim is awarded. Under VA regulations, our fees are based on any retroactive or past-due benefits that you are awarded. This is typically 20% and only applicable to claims that are under appeal.
PLEASE VISIT OUR FAQ SECTION FOR MORE DETAILS